A small, wet nose nudges
against his temporary prison.
An eye stares through the gap, then insistently
Nudges between my fingers again.
We've searched for him for days,
disappointed with our fruitless efforts.
My roommate was patient, I worried, but she invited
me
to continue our search for the elusive frog.
Patiently, she holds my phone, my shoes safely dry at her feet,
as I coo over the freshly- caught, speckled creature.
As I step out of the water, she records a video.
I forward it to friends and family at home after we release the frog,
because even I must admit my enthusiasm is a bit amusing.
Much later, in my second year at college,
classwork and news from home sends me spiraling with worry for a week.
Then, I find two frogs:
one slightly browner and one slightly greener,
both adorned with speckles everywhere but their eyes.
Tiny toes seem ridiculous to the enormity of their mouth and eyes.
My hands are ginormous to such a fragile creature,
but they are equipped with powerful legs and
they are well- practiced at surviving.
I am enraptured.
I think, 'Thank you',
because this is a promise for me and–
I'm grateful.
I only catch these velvety creatures when I am not looking,
my eyes guided to their hiding spot besides the sidewalk.
He's good at knowing when I needed them.
I pass on the experience of catching the frogs,
smaller than my palm and softer than my skin.
Only a few of my friends find them endearing as I do,
but all of them encourage me with only a reminder to wash my hands.
I assure them.
Everyone feels a little closer after we share ourselves
however, and whenever we can.
The memories of the soft velvet and wet webbed feet
soothe the spiraling nothing can permanently ease.
My first semester of college, a classmate who would become my friend told me
about the frogs,
"They're all over campus! You'll see one soon".
I couldn't see them then.
In high school senior year, most of my friends worried
about me,
"Promise, you'll try and make friends?"
I didn't see anyone then.
Now, I am grateful that plenty of people are
willing to listen and congratulate me on my catch.
The first frog I caught was in spring, close to Saint Patrick's Day.
It seemed too small.
I wondered; how does it survive here?
Friends and family from home are hours out of reach,
but burgeoning friendships are in class next door.
I tell all of them about the wide snout and the peculiar eyes.
My roommate refused to hold that first spring frog,
but she laughed brightly
as I struggled to see through murky water,
and held the phone steady so I could share.
Later, in classes, classmates becoming fast friends
smile at the delicate creature illuminated through the phone in my hand.
Frogs survive being frozen all winter,
enduring the seasonal numb because they must,
later thawing in spring.
I am in my third year, and I still look forward to
catching the frogs when given the chance,
and try not to worry.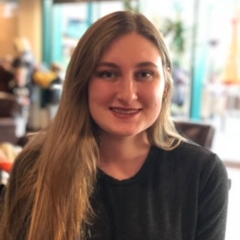 Sierra McCormick
Poetry Author
Sierra McCormick is a junior who enjoys reading, walking dogs, and playing guitar. One day Sierra hopes to become a published novelist and teach at a university.